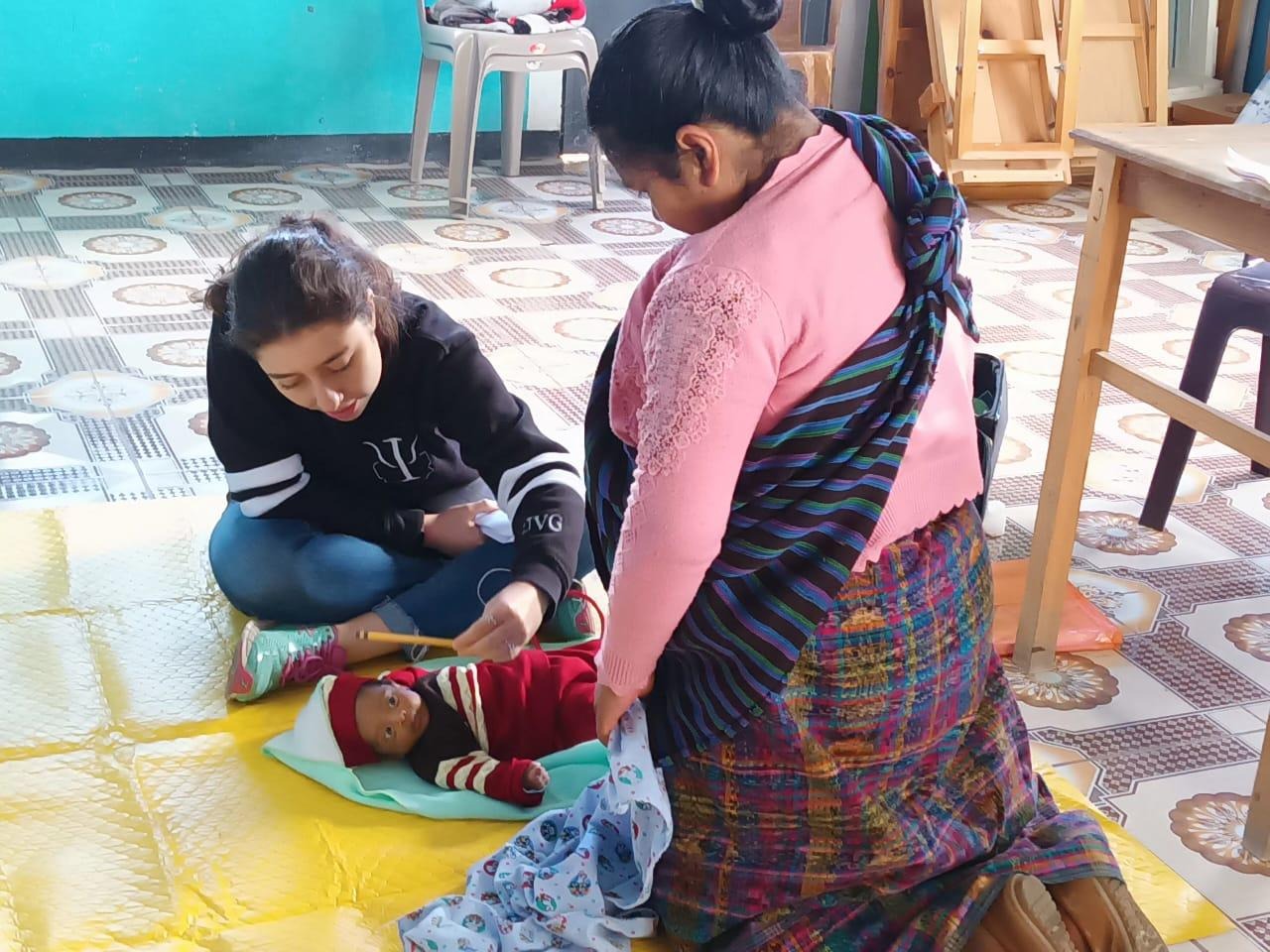 Child development hinges on many factors, including play with adults in the home.
LANGUAGE MATTERS
We are proud to share this major study published last week in The Lancet Global Health that offers additional evidence pointing to the importance of providing healthcare in patients' first languages.
The study, led by Dr. Ann Miller of Harvard Medical School and Dr. Peter Rohloff of our Center for Indigenous Health Research, found that children of families who speak a minority or indigenous language are less likely to meet key developmental milestones than children from households that speak a dominant language. Differences remained even when the study considered other potential contributing factors such as household wealth, the mother's education level, malnutrition, early education, and adult support for development in the home through activities like singing or playing.
Dr. Rohloff, Maya Health Chief Science Officer, notes: "This absolutely should not be taken to imply that speaking an Indigenous language is bad for child development. Rather, it is a measure of how much disadvantage speakers of Indigenous languages face in society due to the impact of barriers like discrimination and lack of educational materials in their own language. The findings should motivate us to work hard to improve equitable access for all children to health and educational services in their primary language."
The study looked at development measures based on the Early Child Development Index (ECDI) for more than 186,000 children aged 3–4 years from 40 countries. The analysis found that about 66% of children from a minority or indigenous-language speaking household were overall on track with development measurements, compared with 77% of children from households that speak the dominant language. Differences were especially pronounced in measures of literacy/numeracy (using and understanding words and numbers) and socio-emotional development. The authors concluded these differences may reflect both the marginalization of speakers of minority languages and the ECDI tool's ability to assess development in children from families who speak indigenous or minority languages. Along with Dr. Miller and Dr. Rohloff, co-authors included Dr. David Flood and Scott Tschida of our Center for Indigenous Health Research and Dr. Katherine Douglas of Boston Medical Center.
Abstracts for the article are available in Spanish, and the Mayan languages of Kaqchikel and K'iche'!
The results of this study underscore the essential role that language plays in delivering quality healthcare. This understanding is at the foundation of the work we do with Maya community health workers in rural Guatemala.

CELEBRATING & SUPPORTING INDIGENOUS WOMEN LEADERS
Chief Medical Officer Dr. Waleska López was among the presenters in a panel on indigenous women's leadership at the Central America Donors Forum (CADF) in Costa Rica in September.
Dr. López joined other members of El Colectivo, a collaboration of four nonprofits dedicated to empowering women and girls in Guatemala: Maya Health Alliance | Wuqu' Kawoq, MAIA Impact, WINGS, and the Women's Justice Initiative. The panel began with a tribute to all of the dedicated women leaders whose contributions remain largely unrecognized. Panelists then shared their personal experiences and challenges they have confronted.
Dr. López, a Maya Kaqchikel woman and health leader with more than a decade of experience bringing healthcare to rural communities, recounted how she defied expectations and earned her medical degree during 22 years of exile in Mexico as a result of Guatemala's civil war.
"They told me: 'Go home and make tortillas," but I became a doctor," she said.
The panel concluded with a call to build authentic and trusting relationships to support the growth of indigenous women, who are critical allies in the pursuit of justice and equity.
GIVING TUESDAY IS COMING SOON!
Giving Tuesday is just two weeks away on November 28! Help us reach our goal of raising $50,000 in donations so we can fully leverage our Board match for a total of $100,000! Gifts received before November 28 are eligible for a 2:1 match!
During this election year in Guatemala, rural communities have experienced rising food and fuel prices and lost workdays due to demonstrations and roadblocks. The need for community-based healthcare is more critical than ever. Help us continue to bring quality services and support to Maya communities who need it most.

GETTING CREATIVE
As we were preparing for our Board retreat in late October, it was uncertain if Board members would be able to make the usual visits to communities where we work due to widespread political demonstrations and road closures.
Instead, on short notice, team members from all of our program areas came up with ways to help bring the essence of their work in the field to Board members in Antigua. There were elaborate maps, charts, and displays, with dolls standing in for patients. Team members working on vaccine acceptance had Board members engage in a game to fend off viruses and create art to express how they felt when the Covid pandemic lifted.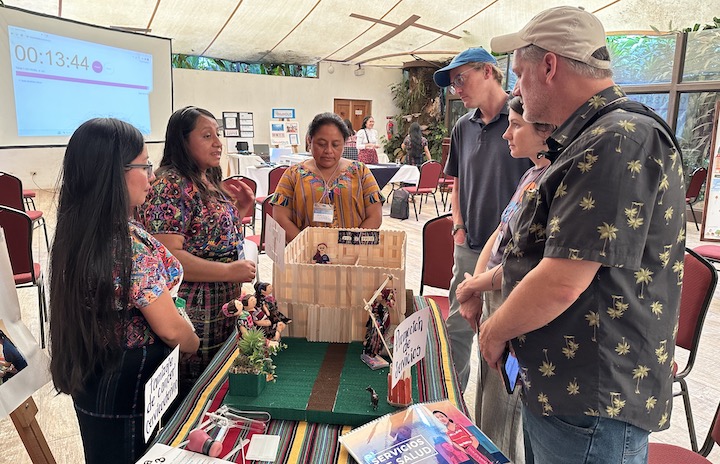 Board members came away more impressed than ever by the team's knowledge, skills, and dedication and the impact that results.
The retreat also included days dedicated to strategy, sustainability, research, and everything else needed to continue to advance our work to bring quality care to rural indigenous communities.
WELCOME CAROLYN PURCELL!
We are thrilled to share that Carolyn Purcell has joined our Board of Directors! Carolyn is a retired family nurse practitioner with a lifelong interest in supporting immigrant communities and promoting healthcare access for all. She studied at the University of San Francisco and University of California, Davis and earned her master's in nursing at the University of California, San Francisco. She lives in Mountain View, California and is grateful for being part of a big extended family and for precious grandchildren.
CONGRATS, SAQMOLO' RESEARCH TEAM!
Dr. Gabriela Montenegro presented the initial data from our Saqmolo' (Egg) research at the Food and Nutrition Conference and Expo organized by the Academy of Nutrition and Dietetics. This study is looking at the impact of adding daily egg consumption to standard nutritional care for children in Guatemala. The poster Dr. Montenegro presented, titled "Baseline Growth, Diet Quality, Anemia, and Development for Infants Participating in the Saqmolo' Randomized Controlled Trial," received an "outstanding" award at the conference. Congratulations to the international Saqmolo' research team – Taylor C. Wallace, Elizabeth Yakes Jimenez, Gabriela Proaño, MS, RDN, Alison Steiber – and the Maya Health team in Guatemala. We continue working to make the world a healthier place for everyone!
JOIN US IN GUATEMALA FOR AN INSIGHT TRIP!
Interested in seeing our work first-hand? Consider joining an Insight Trip to visit the amazing rural communities where we work, meet our team and patients, and have some fun along the way.
The next trip is February 4-8. Click here to learn more.