Hello!
Welcome to our quarterly newsletter! I'm happy to report that 2022 is off to a very strong start, including two especially wonderful events: our first-ever leadership team retreat (pictured above) and a visit to connect with our partners, supporters, and friends in California. Both underscored the enormous talent, commitment, and energy helping to move our work forward on all fronts.
On a more sobering note, while Covid rates are declining in Guatemala, at least for now, Guatemala's Congress recently passed a law that threatened shocking restrictions on fundamental human rights. Fortunately, it appears that it will not stand.
Read on for more!
- Anne Kraemer, Executive Director
COVID UPDATE
The number of confirmed Covid cases in Guatemala has been declining since mid-February. However, Guatemala remains one of a handful of countries that has yet to open schools. We are definitely seeing fatigue around mask-wearing, especially in rural areas. Our vaccination rate, just under 35%, is the lowest in Latin America.
This makes our vaccine confidence work with partners at the University of California, San Francisco and Stanford University's Digital Medic more important than ever. We are discovering the most effective ways to work through trusted messengers & social networks to dispel myths and provide accurate information about vaccines in Mayan languages and communities.
On Friday, March 25, we're excited to be sharing what we're learning at the Consortium of Universities for Global Health (CUGH) 2022 conference.
We'll be part of lightning rounds from 8 - 11 am PT (look for us just after 10 am PT/1 pm ET). You can register for free at https://bit.ly/cugh-aaho
We also recently had a chance to dive into this work on the Bay Area Global Health Alliance Vax Up podcast — check it out here — and with the Vaccine Acceptance Research Network (see time stamp 1:15:45).
BUILDING OUR TEAM & FUTURE
In February, we held our first ever leadership retreat in Santa Cruz La Laguna with 18 team members. We focused on skills like developing a vision, accepting failures, adopting a growth mindset, and creating strong teams.
We worked in small and large groups on a variety of enriching activities. Much of the team building happened at the meals and activities in between working sessions. Those times helped foster confidence, trust, and better communication.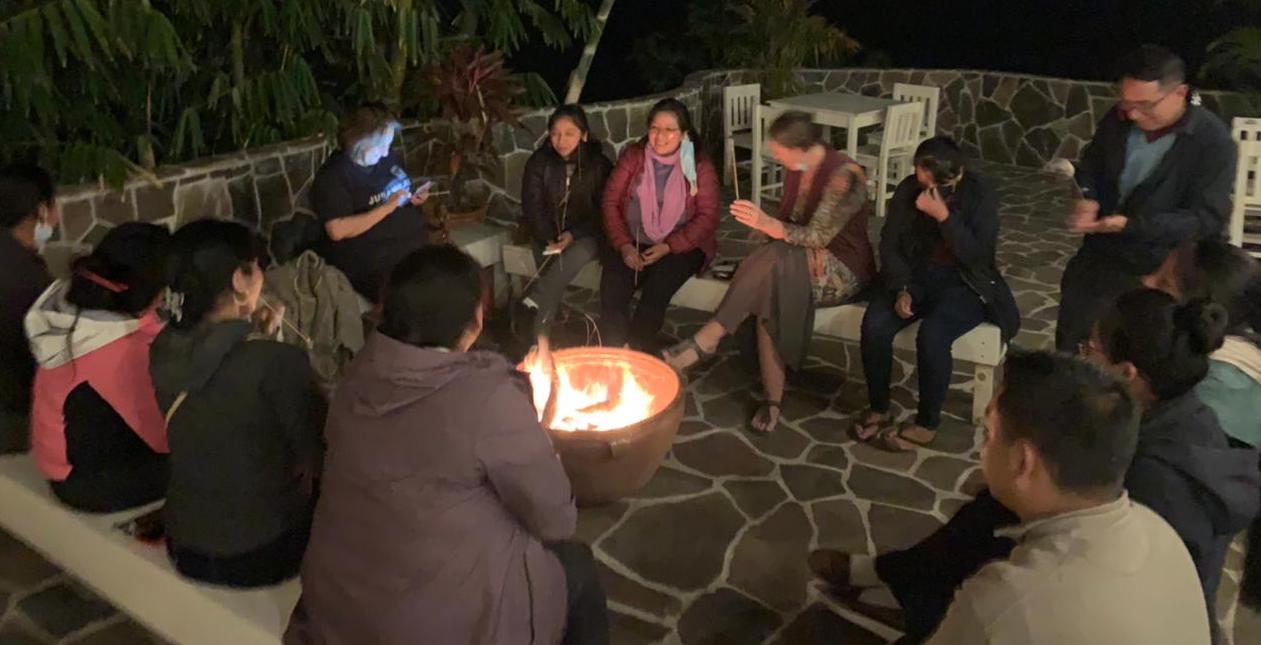 We also took time to review and get feedback on our new five-year plan. We asked our leaders to consider where they and their teams fit and whether they support the plan. We all agreed that to be able to reach big goals, this dream has to be all of ours.
One of the key features of the plan is an Institute for Health Education, Equity, and Leadership.
After 15 years of working in rural, indigenous communities, we want to leverage our successes (and setbacks) by sharing what we've learned to help build capacity in community health and achieve health equity across Guatemala.
Stay tuned for more details and progress updates!
GETTING TO KNOW YOU
It was fantastic to meet our friends and supporters from the Los Angeles and San Francisco areas during visits earlier this month. Especially after all of the Covid-induced online meetings, it was a delight to meet face-to-face. Thankfully blue skies made it easy to get together outdoors.
Pictured here are Board Member Chris Davies, Caridad Partners Marti Rule and Pam Cook, and Executive Director Anne Kraemer (plus Jaunty, guide-dog-in-training!).
CLOSE CALL FOR HUMAN RIGHTS
Earlier this month, Guatemala's Congress passed the "Protection of Life and Family" law. Among other things, the law would restrict sex education, impose a potential 10-year jail sentence on women who experience a miscarriage that's not documented by an obstetrician, and narrowly define a family as a man, woman, and child(ren).
The law, passed on International Women's Day (!), would pose many threats for our patients. Just one example is indigenous women living in rural areas who don't have access to any obstetrician, much less one who speaks their language. They could be imprisoned if they suffered a miscarriage and could not access the right kind of doctor to certify what happened.
A quick, spirited response by citizens and advocates seems to have reversed the position of President Alejandro Giammattei, who initially indicated support and now says he will veto it.
Read more in Al Jazeera and the New York Times.
PERFECT SCORE!
Charity Navigator just released new measures and we are proud to have received a score of 100% across the board for Finance & Accountability, Leadership & Adaptability, and Culture & Community.
Thank you so much for your ongoing support!
Maya Health Alliance | Wuqu' Kawoq
PO BOX 91 | Bethel, Vermont 05032-0091
513-393-9878 | development@wuqukawoq.org